Protect Wi-Fi from intruders and hackers
The continuing trend of remote work makes data leakage prevention ever more important for organizations of all types.
Codeproof Secure Wi-Fi is a cybersecurity mobile app which uses state-of-the-art encryption technology to enhance the security of your device preventing intrusion when using unsecured Wi-Fi networks such as those at airports, cafes (such as Starbucks), hotels, restaurants, libraries and transit systems.
The Codeproof Secure Wi-Fi app is user-friendly - easy to configure - and is carrier agnostic.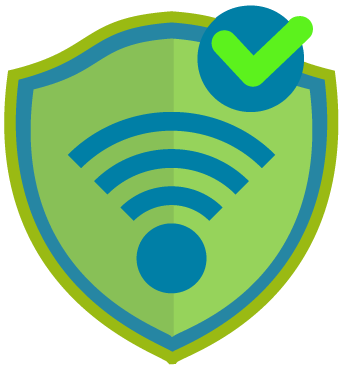 Security benefits:
Automatically detects Wi-Fi networks and configures protection
Secures smart phones from man-in-the middle attacks
Prevents password theft and login hijacking
Prevents ISP tracking
Increases online banking security
Increases online shopping security
Increases online privacy
Prevents monitoring of device activity
Codeproof Secure Wi-Fi is a paid monthly recurring subscription service offered at a rate of $1.99 per month. The subscription renews automatically each month until cancelled by going to the Settings app and is billed to the customer's iTunes account. The Secure Wi-Fi app is compatible with all major mobile carrier networks including T-Mobile, AT&T and Verizon.
Frequently asked questions
The app is currently available for download from the Apple Appstore and will soon be available on the Google Playstore.
Secure Wi-Fi automatically encrypts public Wi-Fi network connections using an industry standard VPN technology.
No. Codeproof MDM is not required. Secure Wi-Fi is a standalone cybersecurity app. It can be deployed using any MDM product or manually installed as a download from AppStore and Playstore.
The Secure Wi-Fi app is designed for enterprise customers. It can be easily activated using a QR Code. Enterprise customers can reach out to sales@codeproof.com to setup a demo.