Remote Worker® MDM for Windows 10 and Windows 11 Laptops, Desktops, and PCs
Though mobile devices continue to gain in importance in enterprise settings, desktops and laptop PCs running Windows continue to remain a major part of the enterprise ecosystem. With sensitive corporate data frequently being transmitted between Windows PCs and other devices, the need to manage Windows PCs is now more pressing than ever. This is especially true with the recent work from home (WFH) revolution.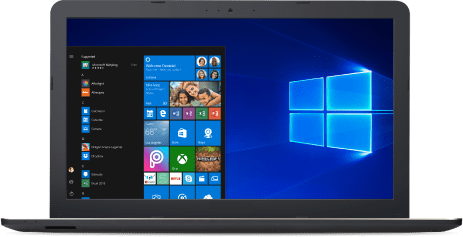 Codeproof now offers Windows 11 MDM, a modern device management solution to secure, deploy, and manage Windows 10 and Windows 11 endpoints in today's workforce.
Top features
The following are the high-level features supported by Remote Worker MDM for PC and Desktop.
Command center
The command center allows IT Administrators to send commands instantly to a one device or a group of devices from an easy-to-use cloud console. Commands include send SMS, data wipe, screen lock, installing and uninstalling applications, rebooting the computer and more.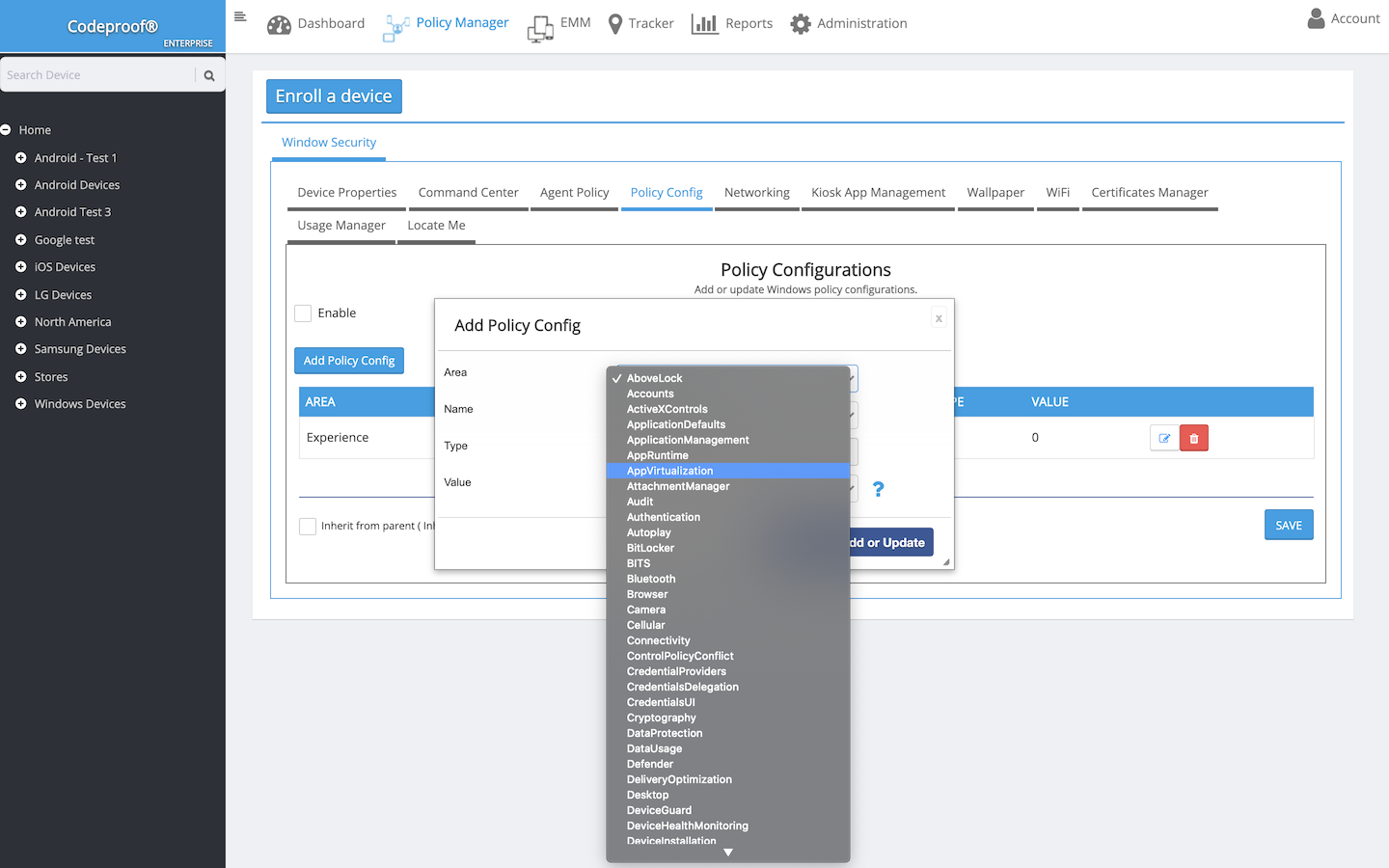 Policy configurator
Codeproof allows IT Administrators to remotely configure and customize 1200+ group policy settings on managed Windows PCs including web browser restrictions, app restrictions, desktop customizations, etc.
Networking
Remotely configure global system wide proxy to monitor the web traffic from all Windows applications. The end-users will not be able to bypass it. This feature is primarily useful for CIPA based web content filtering for K-12 schools and other organizations looking for content filtering.
Kiosk management
Lock down the usage of a Windows PCs to a single app, small set of apps, or web shortcuts for business or school use only. Prevent end-users from using unauthorized apps or performing unauthorized actions. Apply app restrictions to desktop apps, modern apps, and web apps.
In kiosk mode, IT Administrators can also lock down the shutdown button, restart button etc.
Restrict computer usage
Our computer usage management feature restricts computer usage on enrolled computers. The IT administrator can define a weekly schedule to automatically turn off computers during non-working hours. This is essential when employees are working remotely. The IT Administrators can remotely restrict working-from-home employees using company computers during the non-work hours to prevent unnecessary usage of company resources.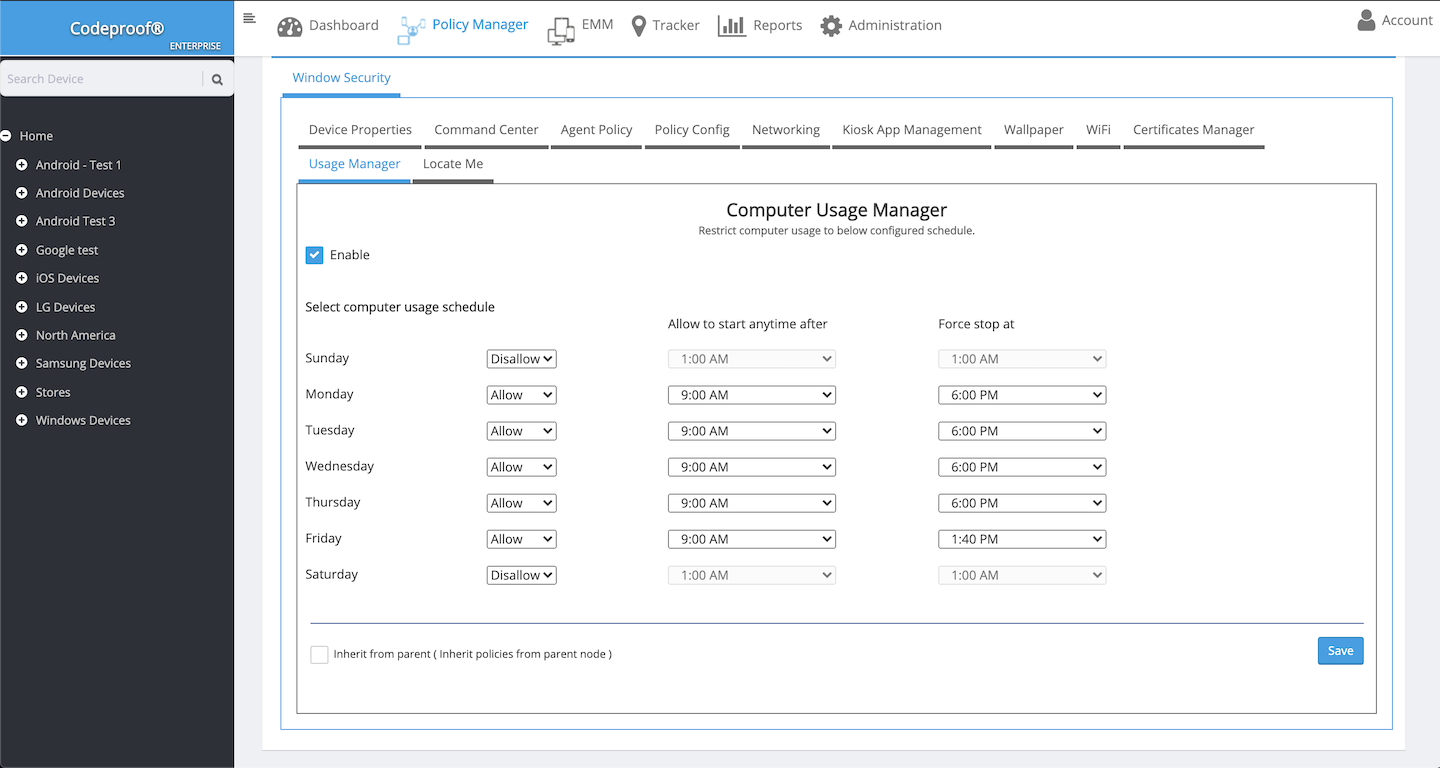 Custom wallpaper
Customize the look and feel of your Windows computers by remotely configuring the wall paper and lock screen images on all selected devices.
WiFi management
Remotely configure and manage WiFi networking in the managed Windows computers.
VPN management
Remotely configure and manage the VPN on one computer or a group of computers.
Certificate management
Centrally update and deploy certificates to all enrolled Windows 10 PCs to enable data to be communicated securely.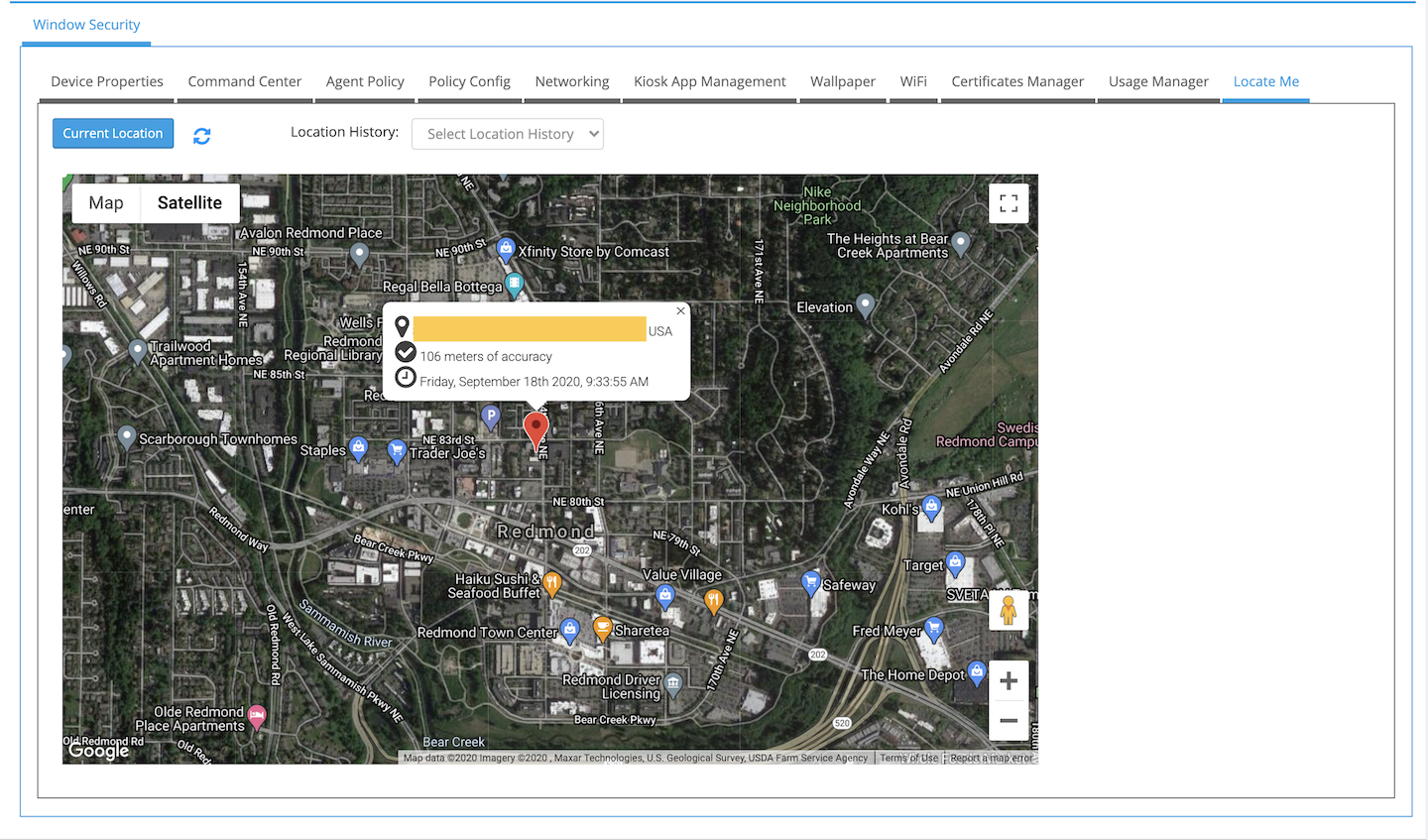 Location tracking
Precisely track all enrolled laptops and desktops down to their current physical address on a Google map display. Windows computers GPS coordinates information are gathered using WiFi network and nearby cell towers.
Reporting
Various device management reports are available for IT Administrators to better manage the fleet of laptops and computers operated by remote workers.
Note: Codeproof will offer its "Windows MDM" solution as on-premise software for large enterprises as well.
Note: Get Codeproof Windows 10 and Windows 11 MDM customized to the specific needs of your organization. We can accommodate various customizations upon request.
"Throughout my experience with Codeproof, it has worked flawlessly. Even more importantly, Codeproof support is unrivaled."
Working with Codeproof has been a relief, it allows our company to have control over software and devices and visibility to ensure our employees have the proper equipment to do their job each and every day.
We didn't make a single compromise to get the protection we wanted and needed.
We have site phones that we need locked and tracked. We have recovered lost or stolen phones...and pushed new apps remotely.
The Codeproof platform not only assists in fleet management, but has benefitted our company in helping to make the process of retrieving company property more reliable.
Customer support is always accessible and those who have assisted us have gone out of their way to ensure the MDM platform meets all of our needs.
Codeproof had the right balance of easy individual device configuration and group-level settings, as well as an excellent support team and willingness to add new features to meet our needs, all at a competitive price.
Having our employees work in remote locations, Codeproof has really helped us manage our devices...They are very helpful and detailed when explaining thing.
Codeproof has made device management much easier than some larger MDM solutions. From the beginning of our trial Console, up to the present, we were able to easily contact the development team at Codeproof with any ideas for improvements.
With Codeproof, the first thing I noticed is that the UI is much more intuitive and simpler to navigate. I feel like there are as many, if not more, features available to me in Code Proof but they are a little easier to find.
Foundation is so grateful for the partnership with Codeproof and their willingness to support students and families in need of literacy resources. While our technical needs are likely less than that of other companies, we have found great value in the Codeproof product.
Codeproof has great customer support. If there is an issue, or if we need assistance with anything, they are very quick to respond and lend a hand.
Terrapin Pharmacy's Executive Management and Technology Developers would be extremely likely to recommend Codeproof to others based upon the interactions we have had with the Codeproof team and the can-do culture within their organization.
Codeproof is a very comprehensive MDM product. We received great service at all times from their technicians when we had issues. They are continually working on improving the product with feedback from customers like us, so we can have better control of our remote equipment.
[An] upbeat, well-organized, and helpful company. Codeproof provided superior customer support during a time of uncertainty.
Codeproof has been an asset in maintaining security, control and reducing liability of our mobile devices by allowing us blanketed control of our mobile fleet at all times regardless of day and location. It will continue to be the foundation for our mobile security for now and the future. Their security options and scalability is priceless.